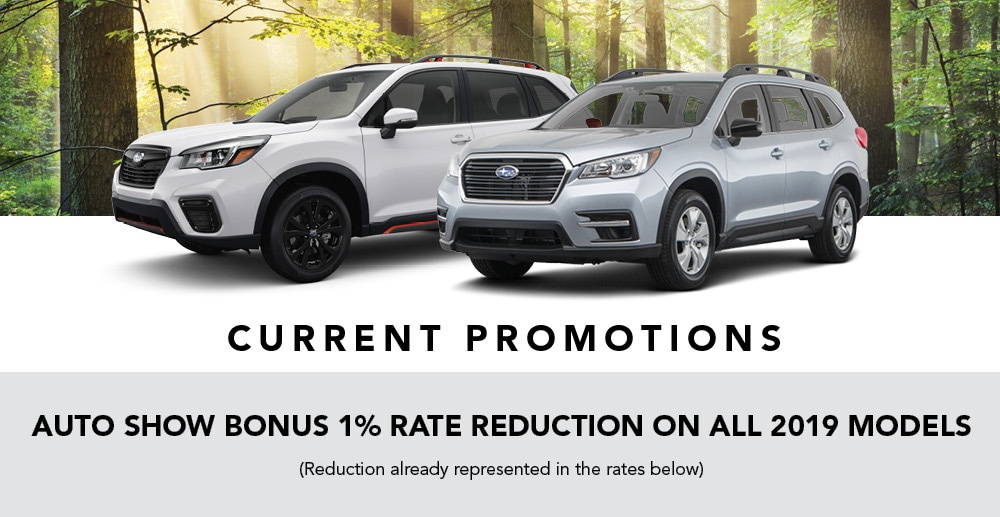 *Offers expire April 30, 2019. Some restrictions may apply.
1% rate reduction is applicable to all new 2019 Subaru models only. Rates shown above have already been reduced by 1%.
Offers subject to change or cancellation without notice. Offers only valid at Jim Pattison Subaru Winnipeg. Contact us for complete details.
Offer expires
: 04/30/2019

See Jim Pattison Subaru for more details. Eligible participants must be graduating within four months or have graduated in the current year or previous two calendar years from a recognized university undergraduate degree program or two-year college program (48 weeks minimum). There is a lifetime limit of one graduate rebate offer* per qualified buyer, the offer is non-transferrable and the vehicle must be registered in the graduate's name. This offer is over and above most consumer retail offers available from Subaru Canada, Inc., but cannot be combined with any other rebate offers or employee discounts. A $750 cash-back rebate is applicable to new, unregistered Subaru vehicles only. A $500 cash-back rebate is applicable to Subaru Certified Pre-Owned vehicles only.